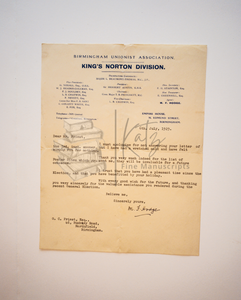 1929 Interesting Letter About a British Politician and World War Two Army Major
10129
$8999

$89.99
Tax included.
---
---
On offer is an interesting letter that connects a local, post-World War One (WWI) UK election with momentous events in World War Two (WWII), reaching even across the Atlantic to Canada. This document is a letter from the Birmingham Unionist Association thanking a supporter for assistance provided in the recent General Election.
The Birmingham Unionist Association has its roots in Liberal Unionist Party which broke away from the ruling Liberal Party and formed a political alliance with the Conservative Party in opposition to Irish Home Rule. They eventually merged with the Conservative Party in 1912. However, they retained their organization in Birmingham and served as a brick wall to Labour victories until 1945.
The candidate in 1929 was Major Lionel Beaumont-Thomas. He won the election and this letter is from his official agent thanking a supporter for assistance. Beaumont-Thomas only served one  term before returning to run his family business.
In WWII, he re-enlisted and served in several intelligence roles. In 1942, while crossing the Atlantic, his ship was torpedoed by U103. All managed to safely get to lifeboats. The submarine surfaced, interrogated the survivors and took Beaumont-Thomas prisoner, leaving the rest to their fate. U103 was the single most successful German U-boat of WWII, sinking some 237,000 tons of Allied ships. In April, 1945, she was sunk by Canadian bombers. Beaumont-Thomas was never heard from again. 
Beaumont-Thomas owned a motor yacht named Llanthony. She was requisitioned in 1939 by the Admiralty, and after transfer was placed under the command of Sub Lieutenant Robert Timbrell of the Royal Canadian Navy. Under his command, she was one of the Little Ships that took part in the Dunkirk evacuation. Motor yacht Llanthony brought back 280 men, and with trawlers added to his little flotilla, Timbrell was responsible for the evacuation of 900 troops Timbrell earned the Distinguished Service Cross for his exploits. He would go on to have a fine career in the Royal Canadian Navy, commanding Canada's only aircraft carrier (HMCS Bonaventure) and ultimately retiring as Commander of the Royal Canadian Navy with the rank of Rear Admiral.
Beaumont-Thomas's son Nigel jumped into the Battle of Arnheim in Operation Market Garden. He did not survive the battle.
For a historian or a collector of interesting historical ephemera, this simple letter is a wonderful connection to momentous events and people who did truly amazing things in the darkest days of the 20th century.
The typed letter measures 10.25 inches by 8.0 inches. It is on letterhead and is in good condition.
Please don't hesitate to contact us for more information or to request photos. (Kindly include the SKU, listed on this page above the price, in your e-mail so we can more easily answer your questions.)
---
We Also Recommend