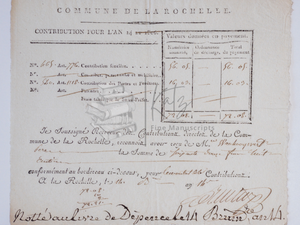 1806 Receipt For Large Tax Payment in La Rochelle, France
10168
$9999

$99.99
Tax included.
---
---
On offer is an interesting financial document from the days of Napoleon's France.
Measuring 6.25 inches by 8.0 inches, the document is a receipt for taxes. It was issued for the city of La Rochelle, a port city on the Atlantic coast of France.
It is interesting to note that the original date, 1806, has been stroked out in favour of the new Republican/ Revolutionary date of Year 14.
The receipt is for a payment of 72 francs, approximately the equivalent of US$ 900 today. The average labourer earned about 390 francs a year so this was a not insignificant amount, equalling about 47 days of wages.
An excerpt follows: 
Contribution pour l'an 14 - 1805 Je soussignee Receveur des Contributions directer de la commune de la Rochelle reconnois avoir recu d' M Vanhougevert le somme de soixante-douze francs huit centimes conformement au bordereau ci-dessus
[Translation: Contribution for the year 4 - 1805 I, the undersigned Receiver of Taxes direct from the municipality of La Rochelle, acknowledge having received from Mr. Vanhougevert the sum of seventy-two francs eight cents in accordance with the above schedule]
For an economist or social historian, this document gives a look at one of the economic realities of life in France during the Napoleonic Wars.
Please don't hesitate to contact us for more information or to request photos. (Kindly include the SKU, listed on this page above the price, in your e-mail so we can more easily answer your questions.)
---
We Also Recommend