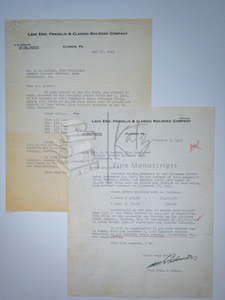 American Wartime Corporate Financial Letters for the Lake Erie, Franklin, and Clarion Railroad
10176
$8999

$89.99
Tax included.
---
---
On offer is a fine example of corporate finance transactions in America in the middle of WWII.
The documents are two letters written by H.M. Johnston, the Vice-President, Treasurer and General Manager of The Lake Erie, Franklin, and Clarion Railroad in May, 1943 and October 1945.  
The letters, written to the Vice-President of Farmers Deposit National Bank in Pittsburgh, detail arrangements to borrow monies via bond issues to pay out holders of the company's first mortgage bonds. They describe the recipient's offers as well as several other offers.
The Lake Erie, Franklin, and Clarion Railroad was a fifteen mile long short line that ran from a Conrail connection at Summerville, Pennsylvania, to Clarion, Pennsylvania, the county seat of Clarion County, and included a short branch from Sutton to Heidrick. The road was incorporated in 1913 as a consolidation of several other railroads, the Pennsylvania Northern, Pennsylvania Southern, and the Pittsburgh, Clarion and Franklin. Length peaked at about 80 miles of track in around 1924.
The corporate name was somewhat optimistic as the railroad never reached either Franklin or Lake Erie. In the late 20th century, traffic included sand for Clarion's glass making plant, glass bottles, lumber, and outbound shipments of coal, some of it in unit trains from the extensive coal deposits around Clarion.
Traffic also included brick from the Hanley Brick Plant in Summerville. The line ceased operation in January, 1993 due to a sharp decline in coal mining in the area. The track was taken up and the roadbed is now a hiking path. One of the railroad's cabooses had been used for several years as a Chamber of Commerce roadside information booth but has been removed and is now serving much the same purpose in the town of Foxburg on the Allegheny River, a few miles to the southwest.
Farmers Deposit National Bank was chartered in 1865. It was merged with Union Trust Company, part of the Mellon National Bank. In 2006, Mellon merged with the Bank of New York to become BNY Mellon, a multi-billion dollar financial services firm.
For a financial historian or economist, these simple letters are a small piece of the tremendously successful development of the American Banking system as it grew to dominate the world's financial markets.
Each of the two letters is a single sheet of paper measuring 10.5 inches by 8.0 inches. The typed contents cover one page only. The letters are in very good condition.
Please don't hesitate to contact us for more information or to request photos. (Kindly include the SKU, listed on this page above the price, in your e-mail so we can more easily answer your questions.)
---
We Also Recommend