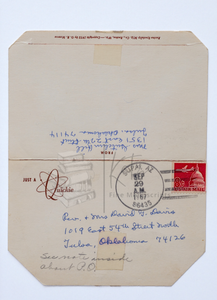 1967 Postcard with Cancelled Supai, United States Post Office Stamp
10242
$12999

$129.99
Tax included.
---
---
​​On offer is an interesting American postcard that bears a rare cancellation mark from the Supai post office, which is the only post office in the United States that had mail come in and go out by mule.
The card dates from September, 1967. The chatty note brings the recipients (context suggests parents) up-to-date on a trip to Arizona. The noteworthy aspect to this card though is the reference to the stamp cancellation. An excerpt from the letter reads:
By the way if you are a stamp collector or have a friend who is one the stamp on this with the Supai post office cancellation on it is a rare collectors item. Supai is the only post office in the U.S.A. that has incoming and outgoing mail by horseback.
Supai has been referred to as "the most remote community" in the contiguous United States by the U.S. Department of Agriculture. It is accessible only by helicopter, on foot or by mule. Supai is 8 miles (13 km) from the nearest road and has no automobiles in the community. It remains the only place in the United States where mail is still carried out by mules.
For a stamp or post card collector, this would make a fascinating addition to a collection.
The post card measures 7.0 inches by 5.5 inches. Folded in half, the outer side serves as the envelope while the note is written on the inner pages. The card is in very good condition. The handwriting is quite legible.
Please don't hesitate to contact us for more information or to request photos. (Kindly include the SKU, listed on this page above the price, in your e-mail so we can more easily answer your questions.)
---
We Also Recommend