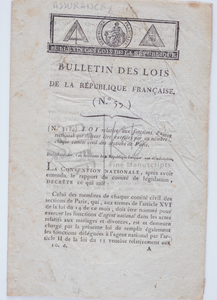 1793 French Revolutionary Legal Bulletin (Bulletin De Lois) Early in the Reign of Terror Changing Five Government Laws/Regulations
10251
$47999

$479.99
Tax included.
---
---
On offer is an excellent example of the legal bulletins that were published by the revolutionary government in the days of the French Revolution.
The document is titled Bulletin Des Lois (Legal Bulletin) and is titled No. 59. It was published, according to the new French calendar, on 29 Fructidor Year 2 – Sept 15, 1793. This date corresponds to the beginning of the Reign of Terror – that period in the Revolution when a series of massacres swept across France and when the spectacle of endless public executions became a constant presence in virtually every city and town.
This bulletin contains a summary of changes made to five different laws or regulations. One, for example, deals the responsibilities of agents of the government, Another deals with financial and insurance businesses. An excerpt follows: 
celui des membres de chaque comite civil des sections de Paris, qui, aux terms doit etre nomme pour exercer les functions d'agent national dans les actes relatifs aux marriages et divorces est et demeure charge par la presente loi de remplier egalement les fonctions deleguees a l'agent national par l'article 2 de la loi du 11 Ventose relativement aux successiones echues defenseurs de la patrie…
[Translation: that of the members of each civil committee of the Paris sections, which, under the terms must be appointed to exercise the functions of national agent in acts relating to marriages and divorces is and remains responsible by this law for also fulfilling the functions delegated to the national agent by article 2 of the law of 11 Ventose relatively successive defenders of the fatherland…]
Another excerpt follows:
Les companies financieres connus sous le nom de caisse d'escompt, d' assurances sur la vie et d' assurances contre les incendies dont la suppression et la liquidation...
[Translation: Financial companies known as cash, life and fire insurance including suppression and liquidation…]
For a historian, this is an excellent example of how the revolutionary government went about the business of drafting and refining the new laws they were creating. For a lawyer, this would be an excellent addition to a collection or a library, showcasing the steps being taken to create a whole new legal system.
This small document measures 7.5 inches by 5.0 inches and contains 8 pages. It is 100% complete. The pages are in good condition. There is some wear and some wrinkling on some of the pages and there is a tear in the last page. These however do not affect the printed contents. The pages are printed which makes them very easy to read.
Please don't hesitate to contact us for more information or to request photos. (Kindly include the SKU, listed on this page above the price, in your e-mail so we can more easily answer your questions.)
---
We Also Recommend