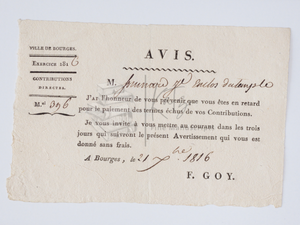 1816 Tax Arrears Warning Demonstrating Bureaucracy Following the French Revolution
10252
$8999

$89.99
Tax included.
---
---
On offer is an interesting piece of local tax history dating from the early days following the fall of Napoleon Bonaparte.
The document, written in 1816, was a warning about tax arrears. The form was addressed to a M.Joumare and is signed by F. Goy. In it, Goy warns Joumare that his taxes due to the city of Bourges are overdue. Bourges is located in the Loire Valley, about 250 km / 155 mi south of Paris.
J'ai l'honneur de vous prevenir que vous etes en retard pour le paiment des termes de vos contributions. Je vous invite a vous mettre au courant dans les trois jours qui suivent le present Avertissement qui vous est donne sans frais
[Translation: I have the honour to warn you that you are late in paying the terms of your taxes. I invite you to act accordingly within three days of this Warning given to you free of charge]. 
Informal research has not turned up any information about either Joumare or Goy. 
Although only a small example of the bureaucratic machinery of government, this receipt is also a symbol. It was the heavy and deeply unfair taxation system in France that directly contributed to the French Revolution and the destruction of the French nobility and position of the Roman Catholic church.
For a historian, it is a tangible hint of the turmoil that had recently shaken France to its core. For an economist, it is a symbol of the far-reaching impact of financial decisions on society.
The document measures 4.5 inches by 7 inches. It is a printed form with space for the recipient's name and date. Otherwise, it is completely printed, including the signature of the tax official. The paper is in very good condition.
Please don't hesitate to contact us for more information or to request photos. (Kindly include the SKU, listed on this page above the price, in your e-mail so we can more easily answer your questions.)
---
We Also Recommend