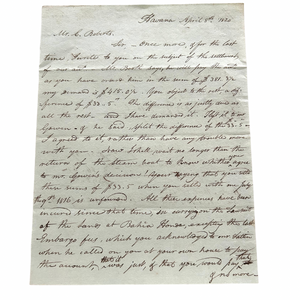 1820 Letter by a Prominent Maine Surgeon Living in Cuba, Referencing Bahia Honda Lawsuit, Daniel Botefeur and More
12060
$79999

$799.99
Tax included.
---
---
On offer is a handwritten and signed letter by Dr. William Frost (1781-1823) demanding financial settlement from Mr. C. Roberts. Dr. Frost was a surgeon from Eliot, Maine, who moved to Demarra, Cuba and owned a coffee plantation. He had multiple business dealings with the "notorious villain", German slave trader Daniel Botefeur, who was in Cuba at the same time as Frost. SEE BIO NOTES ON FROST AT THE CONCLUSION OF THE LISTING.
In this letter, Frost writes to Mr. Roberts, who owes him money and has been refusing to pay the balance. It is clear that their business dealings have been lengthy and fraught. Frost informs Roberts that Roberts' agent, Mr. Booth, has offered to pay $33.5 less than the amount owing to Frost. The text of the letter follows:
"Havana, April 8th, 1820, Mr. C. Roberts. Sir, Once more, and for the last time, I write to you on the subject of the settlement for amt.. Mr. Booth says he will pay the amt.. As you have ordered him in the sum of $381 3/2. My demand is $415.01/2. You object to the rest, a difference of $33.5. The difference is as justly due as all the rest and I have demanded it. I left it to Mr. Gowen and he said split the difference of the $33.5. I agreed to it, rather than have any trouble more with you. Now I shall wait no longer than the return of the Steam boat to know whither you agree to Mr. Gowen's decision! Your saying that you settle these sums of $33.5 when you settled with me July the 9th 1816 is unfounded. All these expenses have been incurred since that time, inn carrying on the lawsuit of the lands at Bahia Honda, excepting the task Embargo fees, which you acknowledged to Mr. Lattin [John Lattin] when he called on you at your own house to pay the account that it was just, of that you pay that and more. This is what Mr. Lattin told me when I was in Matanzas"
On the verso of the documents are notes added after this letter was received, including a calculation completed on April 17, 1820 and a note stating "See Mr. Roberts letter dated 15th April 1820 by Botefeur".
This letter explores business dealings by foreign nationals in Cuba in the early 19th century and includes many names of those involved in the goods trade at the time. It is written by a member of a prominent Maine family whose time in Cuba proved lucrative, though short due to his untimely passing in early middle age. This would make an excellent addition to a collection focused on Cuban history, Americans in Cuba or 19th century business and negotiations. 
ABOUT DR. WILLIAM FROST:  Frost was one of 12 children (some of whom did not survive infancy) born in Eliot, Maine, near the New Hampshire border, to Brig. General John Frost the 3rd and Mary Nowell. William Frost was a surgeon in Kittery and Portland Maine and the US Navy, discharged under the peace settlement on July 14, 1811. He then worked as a surgeon in Demarra, Cuba. He married Elizabeth Walker Keating (1789-1811) of Maine in 1805. They had one child together, Sarah (Sally) Wood Frost (1806-1870). Sally was sent to America after the death of her mother, and lived with her maternal grandmother, Sally Sayward Barrell Keating Wood ("Madam Wood"), who was Maine's first novelist. Letters from Dr. Frost to Sally are held by the Maine Women Writers Collection Repository at the University of New England. While in Cuba, William Frost opened a coffee plantation, to which he retired the year before his death. Dr. Frost died at his estate, Silencio, near Matanzas, Cuba, May 7, 1823. [Source: https://www.seekingmyroots.com/members/files/G002368.pdf]
Please don't hesitate to contact us for more information or to request photos. (Kindly include the SKU, listed on this page above the price, in your e-mail so we can more easily answer your questions.)
---
We Also Recommend