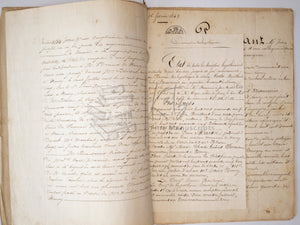 1857 Legal Contract for Sale Drawn by Master Pierre Vergne
10193
$47999

$479.99
Tax included.
---
---
On offer is a beautiful manuscript representing a commercial transaction contract in France. It was drawn in 1857 by a centuries-old legal firm which is still operational in Nancy, France.
This document is the legal contract for sale of a property in the city of Nancy, France. The seller is Marie-Charles Hubert Beausamis and the purchaser is Jean-Baptiste Gillot, a dance instructor and his wife Catherine Mathieu. The document was drawn up by Master Pierre Vergne.
The firm used in this transaction was started in 1722 in the city of Nancy, France. For nearly 300 years the firm has been in continual operation and today operates under the name of Petitjean – Petitdemange.
The deed agreement goes into great detail describing the property and the rights and obligations of each party. There are notes in the margins of several pages and 3 pages also bear printed stamps.
An excerpt from the document follows:
Un petit terrain en nature de jardin clos de palissades en [] situes a Nancy...
[Translation: A small plot of land in the countryside with fenced garden in [] located in Nancy…]. 
In France, notaires or notaries are not only qualified lawyers, such as English Solicitors or American Attorneys but also public officers. Appointed by the Minister of Justice to act on behalf of the State, their duty is to the 'transaction' involved and to ensure everything is done legally and registered properly. The profession has existed for many centuries. Notaires are empowered to authenticate deeds with their seal and signature, officially witnessing the wishes expressed by the parties involved and providing a personal guarantee of the deed's contents and date. Notaires also played a key role in the huge mortgage market that existed outside the French banking system. They sat in the centre of a web of financial and debt information and acted as the primary bridge between lenders and borrowers
For a historian of this period, this is an outstanding document showing in clear and detailed language how the property market operated. It would be a fine addition to the library or collection of a lawyer or property investor.
The document measures 12.0 inches by 8.5 inches and contains 14 pages. It is 70% complete. The front cover page has some wrinkling and wear along the outer vertical edge. Some of the other pages have slight wear marks along the edges. Pages 5 and 6 are a smaller size and appear to have been inserted into the document. Otherwise, it is in excellent condition. The binding is cord and it is intact. The handwriting is legible.
Please don't hesitate to contact us for more information or to request photos. (Kindly include the SKU, listed on this page above the price, in your e-mail so we can more easily answer your questions.)
---
We Also Recommend