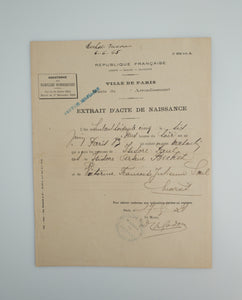 1921 Post-War Certificate of Birth Details for Parisian Serviceman
10102
$10999

$109.99
Tax included.
---
---
On offer is an example of the French bureaucracy at work following World War One (WW1). The document is an extract from the birth records of France. Titled Extrait D'Acte de Naissance, it is a certificate that confirms the birth details of a man born in the later third of the 19th century.
Specifically, it confirms the date and place of birth (Paris, June 6th, 1865) of Isidore Paul Bechet to his parents, Isidore O. Bechet and Victorine. There is a stamp bearing the words "Service Militaire". The document was dated in 1921, making Bechet 56, suggesting that this may have been submitted to the French military authorities for administrative purposes such as pension qualification. 
For a genealogist, this document would be useful in genealogical research or for links to armed service in WWI.
This document measures 10.5 inches by 8.25 inches. It is in good condition. The letterhead is clear as are the several seals imprinted on it.
Please don't hesitate to contact us for more information or to request photos. (Kindly include the SKU, listed on this page above the price, in your e-mail so we can more easily answer your questions.)
---
We Also Recommend