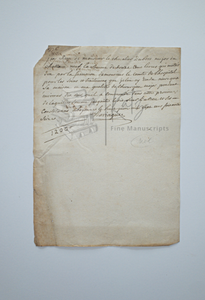 Lovely Collection of Manuscripts from 18th and 19th Century France
10151
$34999

$349.99
Tax included.
---
---
On offer is a fine collection of documents and fragments of French correspondence from the 18th and 19th centuries.
This collection contains four manuscripts from 18th century France and one printed pastoral letter from the Cardinal Archbishop of the French Archdiocese of Bourges.
The first document is dated 1711. The handwriting in the document is beautiful calligraphy. It appears to have been written by Jan (possible Jean) d'Alencon, Sieur des Esssrts, a titled property in west central France. Our informal research has not been able to find any additional biographical information about him.
The second document is a printed form dating from some time in the middle of the 18th century. Stamped into heavy paper is a tax assessment form – Droits Royaux Sur Les Soyes (Royal Duties on Silks). Following blank spaces for a vendor to record their name and details of the shipment, is a notation about "Lyon". Lyon was the heart of the French and European silk industry. From the 15th and 16th centuries, silk was traded in the great fairs held in the city. In 1540 the French king, Francois I, granted Lyon a total monopoly on raw silk imports into France. Lyon became the capital of the European silk trade.
The third document is dated 1773. It bears a faded crest/coat of arms imprint. The signature is not quite readable. The handwriting on this document is also a very beautiful, precise calligraphy, The fourth document is dated 1777 as well. It appears to be a legal document, requesting an adjournment of a possible action or dispute between two persons, one of whom is identifies as Jean Baptiste d"Estienne de Barlemont. This document also bears a seal with the word :Provence" clearly marked.
The fourth document was written in 1777. This document contains a fair amount of verifiable information within it. It appears to have been written to the Intendant or Governor of the port of La Rochelle on France's north west coast. This man was Marie-Pierre-Charles Meulan d'Ablois. He was Intendant from 1739 to 1814. The letter was written by Pierre Jean Vanhoogwerff. According to records, Vanhoogwerff was a businessman and merchant trader. He owned a ship called "La Betsy" and was an active player in the African slave trade. He was also, according to this letter, serving as Vice Consul for the King of Denmark in the port of La Rochelle.
The purpose of his letter was to seek relief from a particular tax imposed quite likely on his own ship.
He refers to "Monseigneur De Sartine" when referencing this tax. "Monseigneur De Sartine" was Antoine de Sartine, the powerful Secretary of the Navy for Louis XVI. de Sartine was a highly accomplished bureaucrat who had honed his administrative skills during a 15-year tenure as the Lieutentant General of Police for the City of Paris. The de facto chief administrative officer for the city, he instituted a wide range of very successful reforms to the city, significantly
enhancing life for the ordinary Parisian. Among his accomplishments was establishing a Police Secret Service that became the model for all secret services across Europe. He was singularly responsible for imprisoning a very large percentage of those held in the Bastille – something that would come back to haunt him in the future. It is reported that he once boasted to Louis XV, "Sire, whenever three people speak to one another in the street, one of them will be mine. " As Minister of the Navy, he overhauled the country's vast harbour and shipping tax system. At the bottom of the letter is a notation dated Jan 29th, 1778 granting the request.
The final document is a printed address written by the Cardinal Archbishop of the Diocese of Bourges. This man was Jean Pierre Boyer. Boyer was born in 1827. He was ordained a Catholic priest in 1854 and consecrated a Bishop in 1878. Pope Leo XIII created him Cardinal in 1895. Boyer passed away in 1896 at the age of 67.
The document is a pastoral letter entitled Nos Destinees Eternelles et Mandement Pour le Saint Temps de Careme de l'An de Grace 1896 (Our Eternal Destinies and Mandate for the Holy Season of Lent in the year of Grace 1896). There is a notation that indicates that this is his 39th Pastoral Letter. Pastoral letters are open letters written to clergy and often to all members of the church (as this one was) in a particular jurisdiction. Such such letters frequently sent out at particular times of the year, coinciding with ecclesiastical seasons, such as Lent or Christmas
Taken together, these documents offer a direct 'window' into life in both pre and post-revolutionary France. There are references to people directly involved in momentous historical events including the slave trade and the French Revolution. These are excellent original documents and would be a valuable addition to a document collection.
The condition of these documents vary from good to excellent, all showing appropriate signs of age with some feathering and discolouration. They vary in size. 
Please don't hesitate to contact us for more information or to request photos. (Kindly include the SKU, listed on this page above the price, in your e-mail so we can more easily answer your questions.)
---
We Also Recommend