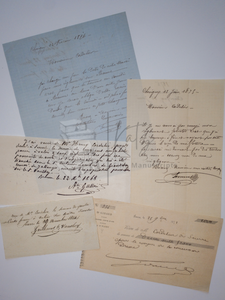 Collection of 1800s Financial Receipts and Letters of a Rich Frenchman Who Loaned Money in the Cote d'Or Region
10163
$19999

$199.99
Tax included.
---
---
On offer is a small collection of loan documents from the early and mid 19th century France. The documents are receipts for various financial transactions involving a Monsieur Henry Codelier who lived in Seurre in east central France.
In the 19th century, outstanding secured debt in France amounted to 28 percent of GDP, or about the same level relative to the size of the economy as in the United States in the 1950s. And this financial market existed outside of the French banking system. Loans were most often arranged by notaries.
Notaries sat in the centre of a web of financial and debt information and acted as the primary bridge between wealthy lenders and borrowers. From context, Cordelier was one such wealthy lender.
The Cordelier family was a wealthy family who lived in that region, known as the Cote d'Or. The receipts were for considerable amounts of money. At the time, and average annual income for a worker in France was approximately 450 francs.
The first receipt (1824) was for 400 francs, equal to nearly a year's income. The reason given was for "traites divertes", or simply accepted drafts. Forty years later, in 1868, Monsieur Cordelier was engaged in an unspecified sale resulting in his payment of 550 francs. From context, it appears that he had a partner in this transaction, a Monsieur Antoine Lambert.
In 1871, the Notary of Seurre, Monsieur Girard, issued a receipt to Cordelier for 2,000 francs for an unspecified transaction. The amount was equal to about 20 times the average annual wage of a worker.
This receipt is printed on letterhead stationary from the Notary. In 1876, he received a letter requesting a change of meeting regarding a payment he was owed. An excerpt follows:
j'ai change un peu les dates de notre manui pour mes reglements sur Beaune. C'est pour que se trouveur un Samedi a Beaune aux lieux d'un autre jour car je serais oblige d'aller expres dandis que le samedi on plus a faire veuillez bien recevais ce petit changement
[Translation: I changed the dates of our handling of my payments on Beaune. It is so that there is a Saturday in Beaune instead of another day because I would be obliged to go express while on Saturday we have more to do. Please accept this small change].
Although the letter is signed, the signature cannot be made out.
The final document from 1879 is a letter sent to Cordelier apparently in response to a payment demand. An excerpt follows:
Si je ne vous ai pas envoye mon reglemens plustot c'est que j'ai en beaucoup a faire et vayens [ ] Depuis le recu de ma facture et aussi ne trouvanns pas des timbres chez nous - excuse moi de ma negilgence
[Translation: If I did not send you my payments earlier, it is because I have a lot to do and have paid for them. [] Since [I have] the receipt of my invoice and also do not find stamps with us - excuse me for my negligence].
Again, although the letter is signed, the signature cannot be made out. Taken as a whole, these show that this man, living in rural France continued to be a very successful businessman for over half a century. For a social historian, they offer a clue as to how the wealthy element of French society recovered from the years of war and prospered.
The documents are all in excellent condition and range in size from 3"x5" to as large as 8"x6.75". They are dated 1824, 1868, 1871, 1876 and 1879.
Please don't hesitate to contact us for more information or to request photos. (Kindly include the SKU, listed on this page above the price, in your e-mail so we can more easily answer your questions.)
---
We Also Recommend