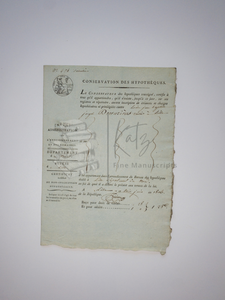 1806 Certificate of Positive Financial Standing for a Mortgage Applicant in Lille, France
10164
$16999

$169.99
Tax included.
---
---
On offer is a superb mortgage document dating from the beginning of the 19th century in northern France.
The document is a certificate confirming that one Louis Jean Baptiste Joseph Demarieres has no mortgages or other debts registered against him in the city of Lille in northern France.
Le conservateur des hypotheques soussigne, certifie a tous qu'il appartiendra, qu'il n'existe, jusqu'a ce jour, sur ses registres et repertoire, aucune inscription de creances et charges hypothecaires ni privilegiees contre Louis Jean Baptiste Joseph Demarieres a lui appartenant dans l'arrondissement du Bureau des hypotheques etabli a Lille Department du Nord en foi de quoi il a delivre le present aux termes de la loi. A Lille ce trois de juin an 1806 de la Republic.
[Translation: The custodian of the undersigned mortgages, certifies to all that will be concerned, that there exists, until this day, in his registers and directory, no registration of mortgages and charges nor favours against Louis Jean Baptiste Joseph Demarieres belonging to him in the district of the Bureau of mortgages established at Lille, Department du Nord in witness whereof it issues the this under the terms of the law. In Lille this third of June year 1806 of the Republic]. 
The document is signed simply "Therioux". Our informal research has not been able to uncover any additional biographical information about Demarieres or Therioux.
The document is clearly watermarked and also bears a wonderfully clear seal on the upper left corner. The market for mortgages in France was huge, even before the country was fully industrialized. In 1840, for instance, outstanding mortgage debt in France amounted to 28 percent of GDP, or about the same level relative to the size of the economy as in the United States in the 1950s And this mortgage market existed outside of the French banking system. 
Mortgages were most often arranged by 'notaries, men like "Therioux". Notaries sat in the centre of a web of financial and debt information and acted as the primary bridge between lenders and borrowers.
For a historian, this is an excellent example of the very robust mortgage lending business in France at this time. For a financial or banking professional, this document would look stunning if it were framed and mounted.
The document is a single-side sheet measuring 10 inches by 7 inches. It is a form that is printed on heavy stock and is in very good condition. The handwriting, confirming the subject of the document and the location where it was completed and filed, is quite legible.
Please don't hesitate to contact us for more information or to request photos. (Kindly include the SKU, listed on this page above the price, in your e-mail so we can more easily answer your questions.)
---
We Also Recommend