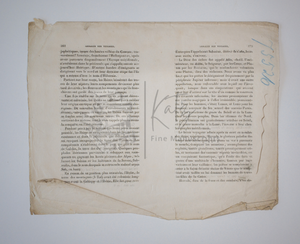 Eight Galley Pages of the Les Annales des Voyages French Geography Journal c 19th Century
10170
$28999

$289.99
Tax included.
---
---
On offer is a galley proof of a mid-19th century French geography journal, Les Annales des Voyages (The Annals of Travel).
This journal was begun in 1807 by Carl Malte-Brun and Jean Baptiste Benoît Eyriès. Its full name was Annales des Voyages, de la Géographie et Histoire. In 1819 it changed its name to Nouvelles Annales des Voyages. It collected original reports of French and foreign travellers about their travels and then translated them to make them available to their readers.
The articles commented on historical references, the customs and culture of people and trade and business matters. Its object was to expand historical and geographical knowledge and it published monthly until 1865.
In 1865, it changed its name to the Annals of Travel, Geography, History and Archeology. It ceased publishing in 1870.
Some of its publishers included the French geographer Philippe François Lasnon of La Renaudière, the German geographer and explorer Alexander von Humboldt , who also developed a system of meteorological records that was used world-wide. Others included Henri Ternaux-Compans, the French politician and translator and other leading figures of the French intelligentsia.
The actual galley pages on offer here  are 161, 162, 167, 168, 169, 170, 175 and 176. Some excerpts of the content follow: 
... Ce travail d'exegese que nous venons de faire pour les noms des heros grecs, il est facile de l'appliquer aux noms des principales nations connues des anciens... [p. 161]
[Translation: [From] this work of exegesis that we have just done for the names of the Greek heroes, it is easy to apply it to the names of the main nations known to the ancients...]
...Sur les donnees premieres du sabeisme, chaque peuple selon son ideome et la genie de sa race, improvisa des varientes a l'infini... [p.168]
[Translation:...On the first findings of Sabeism, each people, according to its ideology and the genius of its race, improvised varieties ad infinitum...]
For a geographer or historian, this is an excellent look at how French social geographers and historians were attempting to organize the information about foreign lands and peoples that was now pouring back into Europe as a result of explorations in Africa, Asia and the Americas.
The document measures 17.0 inches by 10.25 inches. The 17-inch page is folded once horizontally to create 4 pages. The pages are in good condition with some wear along the edges. The document is typed and is completely legible.
Please don't hesitate to contact us for more information or to request photos. (Kindly include the SKU, listed on this page above the price, in your e-mail so we can more easily answer your questions.)
---
We Also Recommend