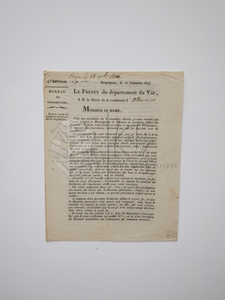 1814 French Requisition Order for Supplies Following Napoleon's First Surrender
10239
$37999

$379.99
Tax included.
---
---
On offer is an excellent example of a civilian requisition order issued by Louis XVIII's government in the aftermath of Napoleon's first surrender to the coalition of European countries that he had fought for years.
The author of this document is Constantin-Marie-Louis-Léon de Bouthillier-Chavigny. This order deals with the requisition and payment of supplies. It  dated December 15th, 1814. Just nine months earlier, Paris had surrendered to the Coalition armies after Napoleon's string of defeats in the 1814 campaign in north-east France. That was Napoleon's final campaign of the War of the Sixth Coalition. As a result of this, Napoleon had surrendered, abdicated the throne of France and gone into exile on the island of Elba.
The document is subtitled Noveau mode de paiment des depenses de requisition, which translates to: New method of payment of expenses of requisitions.
An excerpt from the document follows: 
par ma circulaire de 8 novembre dernier, je vous mandai que j'avais propose a M. le Ministre et secretaire des finances d' des , de faire ordeonnancer en masse et au nom des Percepteurs le montant des fournitures qui ont eu lieu par voie de réquisitions...En consequence, vous trouveres, ci-joint, un arrete qui en regle toutes les dispositions. Je vais enter dans quelques details pour vous en facciliter l'execution et vous metire a terminer, enfin, l'apureement de cette comptabilite
[Translation: by my circular of 8 November last, I instructed you that I had proposed to the Minister and Secretary of Finance of, to order in mass and on behalf of the collectors the amount of supplies which took place by way of requirements…. Consequently, you will find attached a decree which regulates all its provisions. I am going to enter in a few details to facilitate your execution and prompt you to finish, finally, the clearance of this accounting]
Following the exile of Napoleon, the Bourbon dynasty was restored under Louis XVII. Many of Napoleon's reforms however, remained in effect and France effectively had a constitutional monarchy. This included the appointment of officials across France.. One appointment was the Prefecture of the Department of Var. Var is located in the southeast of France with its capital today being Toulon. At the time of this document, the administrative centre was Draguignan, as printed on the letterhead. 
The author of the document, Constantin-Marie-Louis-Léon de Bouthillier-Chavigny, was a French soldier and administrator who initially served in the Royal Army. He received his captaincy as a reward for putting down the military insurrection in Nancy in 1790. As a result of Bouthillier's success, the ringleader was tortured to death, being broken on the wheel – the last time such a method of execution would be used in France.
Upon the fall of the French monarchy, he went into exile but returned in 1791 to serve in Napoleon's administration where he held several positions. Following the restoration of the monarchy, he continued to survive, being appointed by Louis XVIII as Prefect of the Department of Var. It was in this context that his order was issued on December 15th, 1814.
For a historian or someone interested in France and the Napoleonic Wars, this document is a direct connection to those events that shaped the future of the Western world.
The document is a single page, folded to create two double-sided pages. The document measures 9.75 inches by 7.5 inches. It is a printed order and the printing is very legible. The paper itself is in very good condition.
Please don't hesitate to contact us for more information or to request photos. (Kindly include the SKU, listed on this page above the price, in your e-mail so we can more easily answer your questions.)
---
We Also Recommend