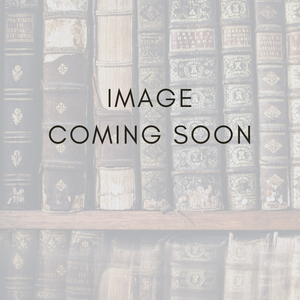 1861 HANDWRITTEN MANUSCRIPT DIARY OF ONE PENNSYLVANIA RAILROAD MAN'S VOYAGE TO CUBA TO VISIT THE GRAVE OF HIS BROTHER AND DO A LITTLE BUSINESS AS THE CIVIL WAR BREAKS OUT AROUND HIM
1098
$3,54599

$3,545.99
Tax included.
---
---
On offer is a beautifully detailed manuscript travel diary handwritten by Mr. H. Clayton from Pennsylvania. Mr. Clayton is on a journey of the soul, but being a railroad man he is drawn to his field of study while on his mission; traveling to Cuba to visit the grave of his brother, who died and was buried in Cuba in 1844. The diary covers his entire journey there and his time there and his journey back over approximately 75 pages dated from March 18, 1861 to April 24, 1861. The trip to Cuba is superbly detailed including catching fish, having his money and wallet stolen, and seeing all the things on the coast that could be seen. He went to Cuba for his brother but also to see the railroad system in Cuba as he was involved in the railroad business in the States. It gives incredible detail of his time there including his treatment of servants, going to the grave and the poor conditions at the graveyard. When he begins to head back he goes to New Orleans and hears news about the fighting in Sumter and then talks about the proclamation of war and the fighting in Baltimore. There is also a great folk art drawing of fruit presented to him Matanzas.
Here are just a few snippets:
Left Tamagua, PA with my wife for Philadelphia. Met my brother, J.R. Clayton, whom I found ready to accompany me as far as New York. Pleasant and agreeable trip to Phil. Wife did not get sick or feel the least inconvenienced by the ride. Took lodgings at the Times Hotel. Returned to the hotel around midnight. Found wife waiting our return. Regretted much at leaving her alone. Called upon the Spanish Consulate, Mr. Deramcaw Locust, at about 9:00 for passport to Havana. Paid $2.00 and received it. Went to the city bank of Philadelphia for draft for $1,200. After dinner I called upon Baldwin and Company who received me kindly and gave me letters to their friends in Havana and Matanzas. Met Colonel Patterson who gave me letter of introduction to Mr. Merrick and son in Havana. Boat left precisely at 2:00 am via Camden and in company with my brother we arrived at New York at 7:00. Got carriages and stopped at St. Nicholas on Broadway. We all went down to the foot of Murry Street and visited the steam ship Bien Villo. After going through the shop we returned to the hotel. Among other things I purchased vest and a coat from Devlin Hudson and Company on 459 and 461 Broadway and Grand Street. A very large new store just opened and I being the first customer purchasing any garments of them.
12:00: Whistle blowed for friends to go ashore. Bid adieu to my brother, Mr. Marcus, and J.G. Burnett who came down a few minutes before. I went aboard, the lines cast off, and guns fired, and away we sped. Often I could no longer discern my friends. I began to look around when I recognized the young man whom I met at the consulate in Phil. He seemed glad to meet me. We find there has been an old gentleman who came aboard to see his friend off carried along. He consoles himself that he can be put off with the pilot off Sandy Hook.
1:00 pm: The bay is really rough and the ships rolls heavily. Many are sick, ladies especially. I keep on deck, looking at familiar scenes. Had a few moments conversation with the captain Bullock who regrets the weather begin so stormy and rough.
2:00: Off Sandy Hook - The engines ceases to work and the pilots boat is seen alongside. The pilot refuses to take the old gentleman in his boat. He says the sea is too high that he would not risk the losing of life. The boat comes alongside and after a few lurches of the ship, she is under the wheelhouse and fills with water. The men apply themselves vigorously to bailing out. After several attempts the pilot gets aboard his little boat. The sea being so high the passengers cry, "There she goes under!" "No she don't!" "Now where is she!"
3:00: I began to feel sick and in a very few moments began to vomit. Sick about 10 times.
8:00: Breakfast, sick again. Vomited freely, sick, sick.
10:00: Deposited my gold, $500, with the purser with the ship. 12:00: Sick, sick, sick. 7:30: Off Cape Hatteras - Very plain with the naked eye. 2:30 am: Turned out to see the Jupiter Lighthouse on the Florida Coast. It being what they call a flashlight, showing a light at intervals.
6:00 am: Running along the coast of Florida, the coast has a flat and monotonous appearance, rather steep beach, prickly pears in the foreground. The servants are kind and attentive. I find there are some aboard who have not been out of their berths since leaving New York.
10:30: Just caught a kingfish, as some call it. A Spanish mackeral speckled and changing colors resembling much the appearance of a trout, weight 52 pounds. Saw the spot where the yacht Mary Kingsland of New York was wrecked on March 16, 1861. Passengers and crew was rescued by the steam ship Cahamba. He writes a copy of a letter of recommendation from C.L. Mcalpine. It says, "Allow me to introduce to you, M. H. Clayton who goes to your city by steamer on a trip of pleasure and for the benefit of his health. Mr. Clayton is connected with railroad interest in this country and is the lessee of one of our Pennsylvania railroads." Had a game of shuffleboard on deck and came off the victor making 100 against 23. Saw all the lighthouses along the Florida Reef. The bay and harbor of Havana are superbly located and the most beautiful scene to behold imaginable.
9:30: We anchor and are surrounded my small boats. The customs house office comes and receives the ship's papers. An engineer of the steam ship attempted to come aboard before the officer examined the papers for which he was reprimanded and threatened by Spanish officers. There is much confusion. Clerks of the different hotels aboard say they are all full but guests will leave by next steamer. Concluded to take lodgings at the hotel Cubano at #9 Teniente Rey Street owned by Mrs. Sarah E. Brewer. Got baggage off boat and bid adieu to captain and friends aboard. Our trucks were arranged in order and two officers overhauled our things very scrutingly disarranging the garments considerably. Arrived at the hotel and found o place to change our clothes and nobody to attend to anything or wait upon you. Seized one of the waiters by the neck and said, "Dam you," gave him a dollar, and showed him my heavy clothes and my wet shirt. He showed me behind a door where I soon changed my linen. Stuffed my dirty clothes in a satchel and gave to the waiter. He then showed me to the bath after which I felt better. Drove to LaGrand outside the wall, could get no better accommodations. Arrived at hotel and found they had located me in room with 4 others who were all Americans.
7:00 pm: Walked down to Dominica and partook of a drink called ___. Walked around to the plaza and listened to the music about 60 pieces. The plaza is beautiful, palms, sand, and all kinds of tree peculiar to the climate. Bought an ordinary hat and paid $7. Drove several times over the Paseo Del Isabelle. There was 350 vehicles of all descriptions in line with drivers of all nations. I did not see but 2 ladies that I or my friend considered good looking. The majority of the ladies seem flabby and stout. Many negroes were in the line and indeed it seemed that they enjoyed all the privileges of Cubans or Whites. Prepared in company with several gentlemen for our trip to Matanzas. After considerable confusion in having our baggage carried to the depot, the negroes carried my heavy truck upon his head for a mile without rest and as fast as I could walk. Beside carrying my valise in his hand, for which I paid him 60 cents well earned. Got carriage and was drove to the railroad depot. Train left at 9:00 and arrived at Cidra Station at 10:00.
Walked from the station to the sugar state, Acana, where I was introduced to Franciso and W. Tauper, who very kindly showed us all the machinery, furnished us with good saddle horses, and we began for the depot where we arrived and took cars for Matanzas. We proceeded to the cemetery or graveyard where the remains of my brother is laid in company with Laurie. Very readily found his vault and plucked some flowers which sprung up around his tomb. Saw funeral of child come in for burial. The coffin was carried by 4 persons with lid off and the little girl very neatly laid out. Its little head was shaking about from side to side. The graveyard in this country are a horrid spectacle to behold. He copied the verses on his gravestone which said, "Sepulcro de don Samuel A Clayton y Familia Fallecio el nine de mayo del ano 1846." Two men are kept constantly digging up the bones and throwing them in a heap. Several vaults were uncovered and some I could see the clothes, shoes, or slippers with nothing inside but the skeleton. Drove to the house of Mr. Burns found the family all collected and had a very warm greeting. They related many things to me about my brother and showed that he was loved as one of their sons. I feel satisfied that he had all the comforts the family could procure for him with every care and attention to soothe his last moments. Rode to the celebrated Valley of the Yumery. We drove over a very rough road and through some very fine estates. It is indeed much beautiful to behold. Saw sugarcane and all kinds of fruit growing. After viewing the valley for some time we drove to the Victoria Estate owned by Mr. Tank where we saw the process of grinding the cane and sugar making. We examined the stocks where the negroes are punished. Drove to the college and made a thorough examination of the work of the children which I find to consist with the most elaborate kind of needlework, knitting, and shoemaking. After breakfast started with Mr. Wright for the cock pit, or chicken fight. Passing the theatre we bought tickets for the concert in the evening. Arrived at the cock pit about 11:30 and found the house full. About 300 people saw 5 chicken fights and 3 of them killed there was much excitement and many dollars changed hands. The concert performance was a young lady from Cadez on the piano and a poet who read in Spanish. The whole thing was dull to me. Had dinner of which I ate sparingly. I bid Jane and all friends at the college a final farewell as I intended to leave for Havana on Tues morning. I felt much grieved at parting with her and hurried away. She waved her handkerchief until I got out of sight. In company with Mr. Lovell of Georgia and drove down to the American Consuls office. From there I strolled over the city and made a few purchases for my wife. Understand that the steam ship Bremmill had arrived from New Orleans.
Got a boat and sailed aboard. Saw by the New Orleans paper that there had been fighting at Sumpter and that there was considerable excitement in the states. Also found that many who intended going to New Orleans were alarmed and determined to go to New York. Arose and found my pocketbook and purse had been stolen which when I returned was in my pants rolled up and in my berth aside of me. I sit my room boy for the purser who did not come and I went for him. I, being very sick, was unable to do anything towards the search. He turned the matter over to the steward who had the room searched and could find no trace of the money. My roommate, a Cuban gentleman, said the cabin boy cleaned the room about 6:00. The matter was kept quiet. The captain said it was better policy to do so. My loss, near as I could estimate, was $453. Had baggage examined by custom house offices and drove to Merchants Hotel found the city all excited on account of the war proclamation and fighting in Baltimore. Much enthusiasm and everybody enlisting for soldiers and service.
Overall VG.; 12mo - over 6¾" - 7¾" tall; SHIPWRECKS, TRAVEL, SLAVERY, ABOLITIONISTS, PHILADELPHIA, CUBA, HAVANA, MATANZAS, SUMTER, TANAGUA, LOUISIANA, NORTH AGAINST THE SOUTH, CONFEDERATE ARMY, CONFEDERACY, REBELS, WAR BETWEEN THE STATES, BROTHER AGAINST BROTHER, CIVIL WAR, HANDWRITTEN, MANUSCRIPT, DOCUMENT, LETTER, AUTOGRAPH, DIARY, JOURNAL, LOG, KEEPSAKE, WRITER, HAND WRITTEN, DOCUMENTS, SIGNED, LETTERS, MANUSCRIPTS, HISTORICAL, HOLOGRAPH, WRITERS, DIARIES, JOURNALS, LOGS, AUTOGRAPHS, PERSONAL, MEMOIR, MEMORIAL, PERSONAL HISTORY, AMERICANA, Als, antiquité, contrat, vélin, document, manuscrit, papier Antike, Brief, Pergament, Dokument, Manuskript, Papier oggetto d'antiquariato, atto, velina, documento, manoscritto, carta antigüedad, hecho, vitela, documento, manuscrito, papel.

Please don't hesitate to contact us for more information or to request photos. (Kindly include the SKU, listed on this page above the price, in your e-mail so we can more easily answer your questions.)
---
We Also Recommend