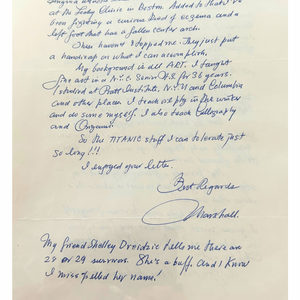 1985 ALS by a Titanic Survivor and Artist in the Year Before His Death, Wherein He References the Titanic and Its Survivors
12067
$3,25599

$3,255.99
Tax included.
---
---
On offer is an incredibly rare letter handwritten and signed by Titanic survivor Marshall Brines Drew (1904-1986) in the year before his death. 
Drew writes this letter in his 81st year, 73 years after the Titanic sank, yet his letter makes it clear that his experience and perspective on the tragedy was still just as important as ever. He addresses the letter only to "Stephen". Context indicates that Stephen is a researcher, seeking Drew's story of the sinking and photographs. It is possible that he was writing to Stephen Low, who produced the 1992 film, Titanica. Interestingly, Drew's letter was written only three weeks after the Titanic wreck was first discovered by Robert Ballard and interest in the Titanic was renewed. 

Drew opens his letter by telling Stephen he has written and photocopied his story and enclosed it with the letter (the photocopied story is not present in this listing). Then Drew writes:
"...I am still being jammed with fan mail or whatever you want to call it…I've just been the honored guest at a Banquet of the Steamship Historical Society of America's 50th Anniversary…One of the greatest evenings I've ever had". 
The majority of Drew's letter is more personal in nature. He discusses his visit to Mystic Seaport Maritime Museum in Connecticut, the death of a friend's husband, his lack of affinity for keeping photos of himself, and his ailing health. However, his writing seems to light up near the end of his letter where he shares his background as a Fine Arts instructor, his education at the Pratt Institute and Columbia, and his work teaching Calligraphy and Origami. 
He closes the letter with more Titanic content:
"So the TITANIC stuff I can only tolerate just so long…My friend Shelley Dreidzic tells me there are 28 or 29 survivors. She's a buff and I know I misspelled her name!" 
This letter is an invaluable addition to any Titanic collection. While there are many places to find Drew's account of his experience of the sinking, to have handwritten evidence of the aftermath of such an experience on a survivor, even as he reaches the end of his life, is significant. 
The letter is two pages long and written in blue ink on standard 8.5x11" paper. It is in Excellent condition, with only minor bends and folds noted. 
BIO NOTES ON MARSHALL BRINES DREW:
Marshall Brines Drew was born in Greenport, New York to parents William John Drew and Annie Eliza Brines. His mother died shortly after he was born and Marshall went to live with his father's brother, Uncle James Vivian Drew and his wife, Maria Louisa Thorne Drew (Aunt Lulu). It was with James and Lulu that Marshall traveled to Europe in 1911 and boarded the Titanic to return to the United States in 1912. Marshall and his family traveled as second class passengers. After his uncle James felt the impact on the iceberg, he ushered Marshall and Lulu to lifeboats and bid them farewell. James died in the sinking while Lulu and Marshall were rescued by the Carpathia. Marshall attended the Pratt Institute and Columbia University for art and became a respected art teacher in Brooklyn, continuing to instruct art even after his retirement. He married Mary Monty (1912-2004) of Scotland, Connecticut. Together, they had one daughter, Bette Elizabeth Drew (b. 1937). They divorced in 1951. Drew was very generous with his time and stories about the Titanic, agreeing to many interviews and befriending many Titanic enthusiasts. He was known to have been a very decent human being. Drew died in 1986 in Rhode Island. 

Please don't hesitate to contact us for more information or to request photos. (Kindly include the SKU, listed on this page above the price, in your e-mail so we can more easily answer your questions.)
---
We Also Recommend