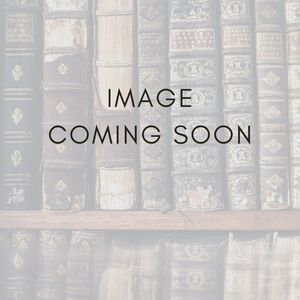 1864 HANDWRITTEN MANUSCRIPT DIARY OF ONE WISCONSIN MAN'S LAST MONTHS OF WAR AND FIRST HARDSCRAP MONTHS BACK HOME - RETURNING TO A SICK WIFE AND SICK FARM
884
$3,59599

$3,595.99
Tax included.
---
---
On offer is an exceptional original handwritten Civil War soldier's diary that details the final months of the war and what awaits him home in Wisconsin. Beginning June 7th, 1864, our writer heads home on a furlough, finds his wife very sick and his homestead and farm in very poor order. He stays home a few months and then heads back to his troop to get his discharge signed. He then heads back home again to take care of his wife and make the farm pay again. While the author is unidentified research provides that he is from Wisconsin and belongs to the "Beaver Dam Rifles" and many mentions of Camp Randall. Here are snippets of this wonderful diary:
"June 7th, In the afternoon our arrival train for the west came along arriving at Beaver Dam. James Watson left, arrived at camp at 8 o'clock. It is there we learned that a freight train had run the track 12 miles ahead and a long day probable…."
"June 8th, Morn cloudy and soon began to rain. After breakfast started on foot for G.R. (Grand Rapids I'm assuming). Some rain fell after starting. Most of forenoon cloudy and pleasant traveling. Arrived at Searls at ½ past 9 a.m. Got my wound dressed arrived at the Piney House at ½ past 11. Took dinner and rested at the house and then traveled on. Sun shone and quite warm. Stage overtook me shortly before arriving at Widow Morgans. Rode in to G.R. Paid 50 cents. Went and staid with A. Garrison. Heavy shower at dark." "June 13th, Morn clear with frost. It seems as though vegetation must all die for want of rain and the cold frosts together. Write two letters. One to Mr. D. L. Buck and one to J. McInentz at Lincoln Hospital Washington D.C. Wife sick all day of Diphtheria or intermittent fever. Staid in my wives bedroom most all afternoon. A little better at night. Received a letter from L.V. Taber and one sent by wife May 15 to 20." "June 25th, Hot and dry all day. No rain. Finish calf pasture, set the calves in. Philo comes home from the Rapids. Called upon by the young lady teacher at eve. Invited to attend a picnic on Saturday July 2nd, 1864. Received a letter from State Adjutant General. Learn more about the disclosure of the Rudolph Rogues two. Eli Taylor and Dr. Parkhurst fined 20 dollars each and cost for stealing a rope at the G. R. Ferry…."
"July 11th, Morn mostly clear. Help wife wash fill straw bed ticks. Get ready to go to R____ on my way to Madison Wis. for my discharge. Left for G.R. at 3 p.m. Stopped at Duttons and saw C. Ronham. Crossed the ferry and went to Mrs. Compton's and then to Knapps Store. Then to Mr. W.P. Butlers. After supper called on daughter Helen and son Philo and then returned to Butlers. Stayed all night." "July 16th, Morn cloudy, looking like rain. Get up at 4 arrive at New Lisbon at 6 a.m. Get breakfast 40 cts. Commences to rain near 7 a.m. First shower light. Took the cars at 9:10 from Minnesota Junction to Milton. Then Milton to Madison. Day cloudy, threatening rain. Crops all over the country poor. Stopped at the American House all night. A fearful rainstorm set in at night with terrific thunder and lightning. The circus being on exhibition, great confusion existed everywhere." "July 18th, Got up at 5 a.m. Dressed and wrote in my diary. Wrote to wife. Read the Madison State Journal. Go to Harvey Hospital and find that E. F. Charmock is discharged, also learn that J McInentz and several other hospital boys belonging to 5th Wis. were in Madison. Find them playing cards for the beer. Have sociable chat….."
"July 22nd, The 6th reg. arrived this morning and learn that the 5th is at Chicago. Go down street after breakfast. Meet B. Faringer and then go to Capitol House to make inquire about J. A. Kellogg of the 6th reg. We learn that Capt. J.A. K. is a prisoner in the hands of the Rebs but well at last accounts. Go to Daggets store and read the paper until 11 and then go to the park and write in diary. At the park until 4 o'clock then go to the depot. Cars arrive at ¼ past four. 5th Wis. Regt aboard. Then comes a general shaking of hands but alas there are many missing ones never to be seen again on earth. Regt. brought muskets, knapsacks and C, stacked arms and had supper at Depot House. Then formed again and marched up to town. Gov. Lewis heading the cavalcade. Marched around the park and then up to the Capitol when Gov. Lewis made a speech. Then Mr. Abbott also spoke. Then the Regt. marched to Camp Randall to the barracks. Many go to Hotels. The boys look hard and doubtless feel sad as well pleased now that we are to disband leaving so many of our brave comrades behind us. Mostly in Old Virginia. We are to soon separate never to meet again in a body after a long term of weary service."
"July 23rd, Morning clear and cool day warm but hazy. After breakfast go to Capitol House and then to depot. Our baggage having arrived. It is being taken to Camp Randall. Get my furlough endorsed by Lt. Col. Catlin then go to commissary of subsidy over at First National bank. Presented my furlough but Capt. Daily not being in did not accomplish anything….."
"July 26th, Get up at 6 a.m. Go to Camp Randall early and write on payrolls most all day. Weather hot. William B. Crocker assists on payrolls. News from the army tonight part favorable and part unfavorable. The Rebs reported advancing towards Maryland again." "August 3rd, Get paid in full by U.S. Paymaster at 11 a.m. I am a free citizen once more. Conclude to go via Sank Prairie on business for E.T. Kellogg. Go to the cars at 4 p.m. Arrive at Mazomanie. Raining. Leave on the stage for Sank, arrive at 8 p.m. Go to Amos Willis……."
"August 4th, Reported from the Army of the Potomac, defeated and Retreating……August 5th, ……Army news of last eve. untrue."
"August 12th, Home at 12 ½ p.m. Find the loved wife, a little better. Children a little better. Myself once more a freeman after more than 3 years of a soldiers life. Often one of great peril and hardships. The recollection of which often makes me shudder when reliving the past. So here I will close my war diary……"
"October 23rd, Emma Sophia is just recovering from a very severe attack of throat disease. Oct. 21st at 11 a.m. we all thought her dying beyond all hopes of recovering but revived about 12 noon and is some better but cross and peevish…."
"1865 "June 5th, ……4 years ago this day I left Grand Rapids to join the Beaver Dam Rifles, a memorable day." "July 25th, Floods all over the county. Fences swept away, hay floated off on Musketoe Creek. Keeps raining until 8 a.m. Musketoe bridge partly floated off."
"October 13th, W. H. Whitman comes back from the army sick."
The diary does not have a cover, the first page is the only faded page that is tough to read, but after that his writing is very legible. There are just over 100 pages (counting front and back) that have handwritten entries on them. Sometimes he writes every day for weeks at a time and other times he writes sporadic entries. There is a small span of a few months, from August 27th, 1864 to October 22nd, 1864 that he skips his entries. He comes home for good and finds his wife very sick with diphtheria.
F. ; 48mo - over 3" - 4" tall; HANDWRITTEN, MANUSCRIPT, DOCUMENT, LETTER, AUTOGRAPH, KEEPSAKE, WRITER, HAND WRITTEN, DOCUMENTS, SIGNED, LETTERS, MANUSCRIPTS, HISTORICAL, HOLOGRAPH, WRITERS, AUTOGRAPHS, PERSONAL, MEMOIR, MEMORIAL, PERSONAL HISTORY, AMERICANA, ALS, ARCHIVE, DIARY, DIARIES, antiquité, contrat, vélin, document, manuscrit, papier Antike, Brief, Pergament, Dokument, Manuskript, Papier oggetto d'antiquariato, atto, velina, documento, manoscritto, carta antigüedad, hecho, vitela, documento, manuscrito, papel, CIVIL WAR ERA, UNION, CONFEDERATE, CONFEDERACY, WAR BETWEEN THE STATES, BROTHER AGAINST BROTHER, REBELS,
Please don't hesitate to contact us for more information or to request photos. (Kindly include the SKU, listed on this page above the price, in your e-mail so we can more easily answer your questions.)
---
We Also Recommend