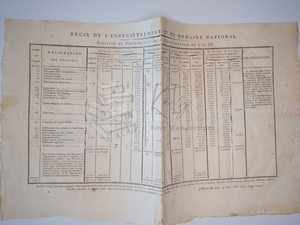 1800 Post-Revolutionary Financial Legislative Bulletin About Taxation and Tax Rebates
10162
$12999

$129.99
Tax included.
---
---
On offer is an extract from the Bulletin Des Lois (Legislative Bulletin) dated 12 Floreal An IX in the republican calendar for May 1st, 1800.
This document is an extract, possible from a large ledger. The document is titled Regie De L'Enregistrement Et Du Domaine National – National Registry and subtitled Fixation et Distribution de la Remise Generale de l'an IX - Determination and Distribution of the Year IX General Rebate.
The French Revolution completely upended the French taxation system. The French revolutionary government took control of the right to impose taxes and established an entire new system. That system included taxation levels and an entire system of rebates.
This piece documents the rebates that will be paid out to various 'classes' or groups of citizens. For a finance or accounting professional, this would make a truly beautiful piece to hand on an office wall.
The single 'page' is comprised of two adjoining pages that have been reinforced along the seam on the verso. The document measures 10.25 inches by 16.5 inches. It is a printed on the recto only. The page is in good condition with some wear marks along the edges. The document is fully printed and quite legible.
Please don't hesitate to contact us for more information or to request photos. (Kindly include the SKU, listed on this page above the price, in your e-mail so we can more easily answer your questions.)
---
We Also Recommend