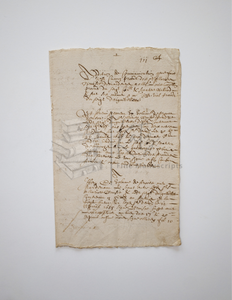 1626 Stunning French Manuscript Document, Likely a Contract
10236
$49999

$499.99
Tax included.
---
---
On offer is a document fragment that dates from early 17th century France.
The earliest date in the document is 1626. The document consists of five very well-identified paragraphs. It may well be a contract or agreement as it does not bear the customary salutations or a complimentary close.
The early 1600's were a time of major turmoil within France. In 1600, France was essentially a Catholic country. However, there was a sizeable minority of the population, known as Huguenots, who followed the religious teachings of John Calvin. Under Henri IV, they had been granted a number of protections and rights through the Edict of Nantes, signed in 1598.
Henri's successor, Louis XIII was far less tolerant of Protestants. Increasing tensions finally led to open rebellion. In 3 successive rebellions in the early 1600's, the Huguenots rebelled. Massacres and atrocities were common and whole cities were burnt to the ground and their population put to the sword.
It is against this backdrop that this document was written.
For a historian, this is a superb connection to these violent and turbulent times in France and events that would shape France right into the Revolution.
The document measures 10.0 inches by 6.5 inches. It is a single sheet, folded lengthwise to form a four page document. The text covers the first two pages. The paper is in good condition with wear marks along the edges. There is some light staining on the pages. The handwriting is difficult to read as it is a rather ornate cursive style.
Please don't hesitate to contact us for more information or to request photos. (Kindly include the SKU, listed on this page above the price, in your e-mail so we can more easily answer your questions.)
---
We Also Recommend