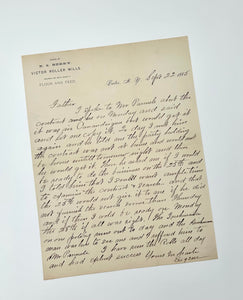 1885 Successful Victor, New York Entrepreneur's Manuscript Letter Filled with Urgent Business Matters
12039
$5999

$59.99
Tax included.
---
---
On offer is a letter from a successful 19th century business owner to his father, Albert, concerning several business matters that cannot wait.  The letter was handwritten on September 22, 1885 by Eugene S. Berry (1854-1922) of Rochester, New York, to his father, Albert. Eugene owns and operates E.S. Berry Victor Roller Mills, a wholesaler of flour and feed operated in Victor, Ontario County, New York.  Context clues from within the letter suggest that Albert plays a high-level role in the business and that Eugene seeks his approval. 
This single-page letter is handwritten on E.S Berry letterhead. In it, Eugene informs his father of challenges with getting a business contract from Mr. Parmele, who seems to be an employee of his firm. Mr. Parmele is eager to have Eugene sign said contract imminently, but Eugene will require additional time with it before signing. Eugene expresses concern that the company insurance policy expires that very day. 
An excerpt:
"I told him that I should want ample time to examine the contract and search and that the 25th would not give it time if he did not furnish the search sooner than Thursday and if then I would be ready on Monday the 28th if all was right…". 
Eugene concludes his letter signing it, "Yours in haste". This brief letter provides insight into the daily stresses of a busy American businessman as the 19th century drew to a close. 
The letter is written on one side of an 8.5" x 11" sheet of paper. There is evidence that the letter has been folded but it is in good shape. The writing is extremely legible. There are two tiny tears on the left side of the letter at the fold lines, but this does not interfere with readability. Overall G.
Please don't hesitate to contact us for more information or to request photos. (Kindly include the SKU, listed on this page above the price, in your e-mail so we can more easily answer your questions.)
---
We Also Recommend