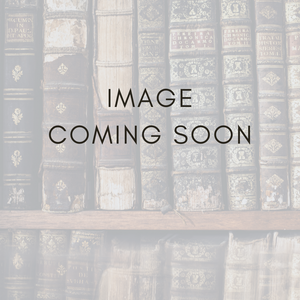 17th Century Handwritten Latin Philosophy Manuscript
827
$6,58599

$6,585.99
Tax included.
---
---
Original handwritten 17th-century Latin manuscript book titled "Logica - Syntagma Philosophicum & Tractatus Secundus de Universalibus." This 340-page handwritten manuscript is in two sections: "SYNTAGMA PHILOSOPHICUM," which contains 80 pages followed by a blank page, then "TRACTATUS SECUNDUS DE UNIVERSALIBUS," which is 260 handwritten pages.
Research suggests this book was a commission to a scribe of no small talents copying the famed philosophical work by Pierre Gassendi (1592-1655) of the same title, SYNTAGMA PHILOSOPHICUM, which was posthumously published in 1658. Alternatively, there is also a 14th-century work by John Wyclif entitled DE LOGICA. Wyclif wrote a subsequent work entitled "TRACTATUS DE UNIVERSALIBUS." Further study will certainly provide full answers to the work.
This book is 6" x 8 3/8" bound in full period vellum. The first 40 pages have some light stains along left hand margins with the bottom corner of the first page chipped off with no loss of text, the vellum is a bit soiled, binding is fairly tight, so overall G+.
Please don't hesitate to contact us for more information or to request photos. (Kindly include the SKU, listed on this page above the price, in your e-mail so we can more easily answer your questions.)
---
We Also Recommend